Renault ZOE: 400 km test drive of the truth by BLOGaL
5 years since BLOGaL exists, and you could read in our columns a round the world trip in an electric vehicle, share our thoughts on the best solutions for EVs, like charging at home or outside. We even got to meet on Dec. 5, 2013 at the Pro-EV Conference that we organized in Marseilles with Centraliens.
5 years already and yet this is the
first trial of a VE in our columns
! So we chose
the Renault Zoe
, both 100% electric (BEV) and
100% made in France
.
Thank you to Renault Michelet for lending us the car. Joint program: daily city use and fetching children Tuesday at the school, take them Friday morning. And in between, Round trip Marseille Nice to attend the 3rd EV Charge Point Symposium. To go to this event rinding an EV was a way to realize the practice of the state of affairs of the charging infrastructure on my journey.
Before getting into the car, remember the news Zoe: one month in January 2014 with 102 sales difficult France only (against 121 for the Nissan LEAF), but good prospects with the famous occasional recharging cable now offered with Zoe from March and compatible with a normal socket or Green-up jack.
First contact
The car is beautiful! This is of course completely subjective, but that's my opinion ... and I share it! Forget the golf cart with the wrong PVC trim: Zoe is a real car. Quick grip: the door is heavy, good slap. We are in the area of ​​perceived quality. The field of Germans. Zoe was all good.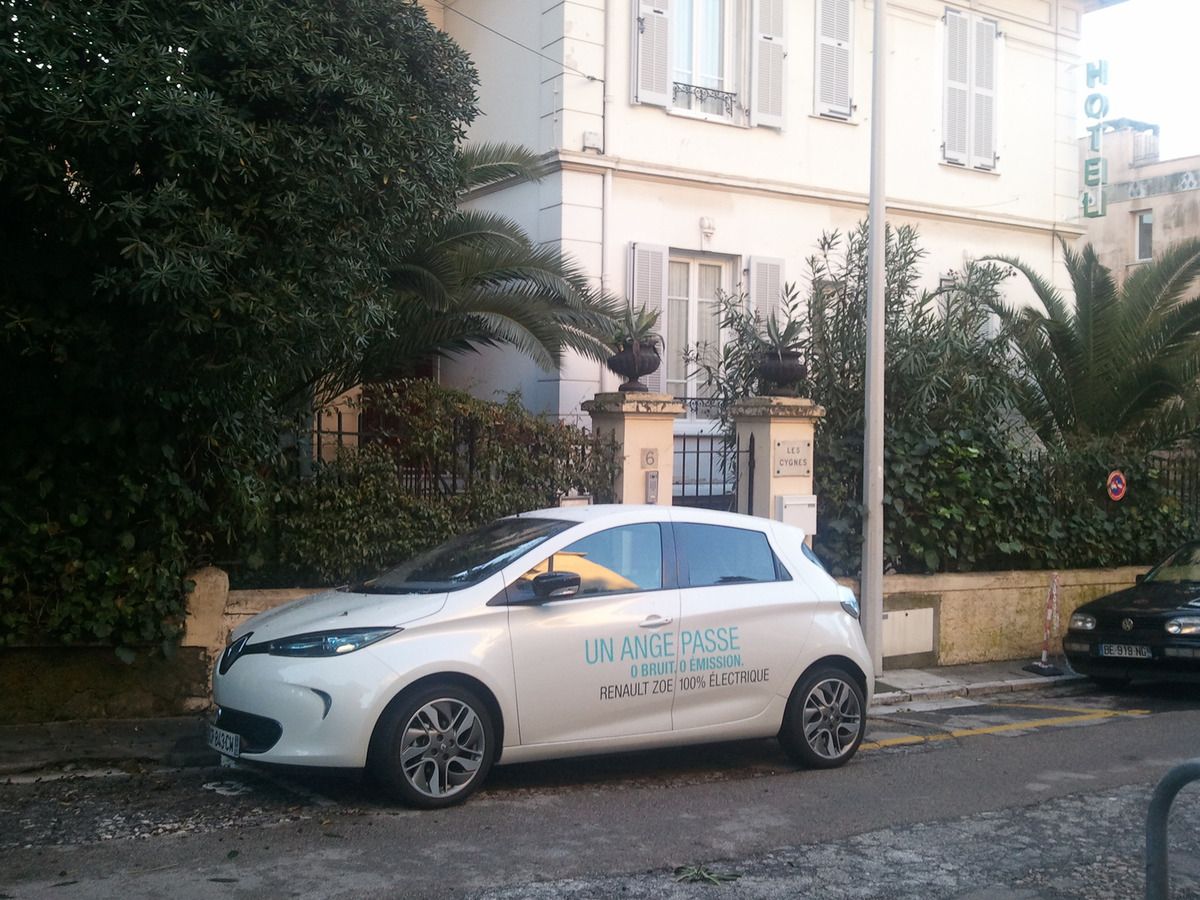 The driving position is quite high, the view is good. The interior is very clean: Nice quality of the plastics used. On your right hand is the famous R-Link touch screen and a USB port where very soon my mobile comes to charge while driving. Communications taking place via Bluetooth.
This tablet R-link is rather disappointing. The graphics are worth the first Atari consoles. The login is not so obvious (how to program the heating of the car while charging ...). There might be ways to do better. Oddly, what is acceptable in a "ordinary" car (like the CLIO IV I rented a week earlier) is no longer in the technological marvel the Zoe is.
The Zoe must have for Geeks
I feel that Zoe is THE trendy car. Exceeded the Fiat 500, Mini, Mito and other DS3: the hype moms will go for their high-quality offspring in front of the School of Provence ( to fit with your city ), driving a Zoe. Just a detail, gentlemen marketers: customize the Renault Zoe its essential !!! ... With some colors offered on the site, it is far off. Here is your model: http://www.girleek.net/2011/09/06/personnalisez the extreme-a-your-future-citroen-ds3/ .
4 large seats (I measure 1.95m and the child behind me did not complain about running out of room for his legs). I have not tested the 5 th seat behind, but it looks identical to that of the CLIO. The trunk, by cons, is immense.
So in summary, a marketer from Citroen for packaging and another from Apple for the tablet and you'll be close to 80% of the niche hype moms before school! (And remember to Geoffrey Moore, quoted by Romain Baume in our ProVEnce Conference on Dec. 5.: " To inspire confidence and trigger phenomena prescription, better hold 80% of a several niches than 0.1% of a very large market").
Driving
The car works really well. It is lively, precise. Nothing to do with the CLIO I had rented the other day. And automatic transmission is an absolute treat. The motor torque is always waiting for you. As I could have on my 207 1.6 120bhp petrol auto box, blocking the box on sport setting ... and consuming between 12 and 14 l / 100 km !!!
In highway driving, a touch makes all the difference: the eco next to the shift lever button. Engaged, the accelerator pedal is VERY strong! And prevents over 100 km / h. (I had not had the opportunity to take the CLIO on the highway. Is the Eco mode so restrictive on a diesel?). So in eco mode ... it's boring! But autonomy is the appointment: after 90 km between Brignoles and Marseille, on my way back, I still had 35 km.
But when the next charging point is close enough, press the Eco button to unlock is like operating the KERS in Formula 1: the car is boosted and suddenly found his joie de vivre: acceleration times. Overtake a truck, full mounted is absolutely not a problem. In fact, without this eco button, the car behaved perfectly normally!
The transition to the pump
For a first experience, I chose to relay 90 km between charges. Abominable weather to go gave me reason. With the cold, rain, headlights on, heating, car announced about 105 km (15 more than 90 made).
First stop, so in Brignoles, Renault: http://www.renault.fr/concession/brignoles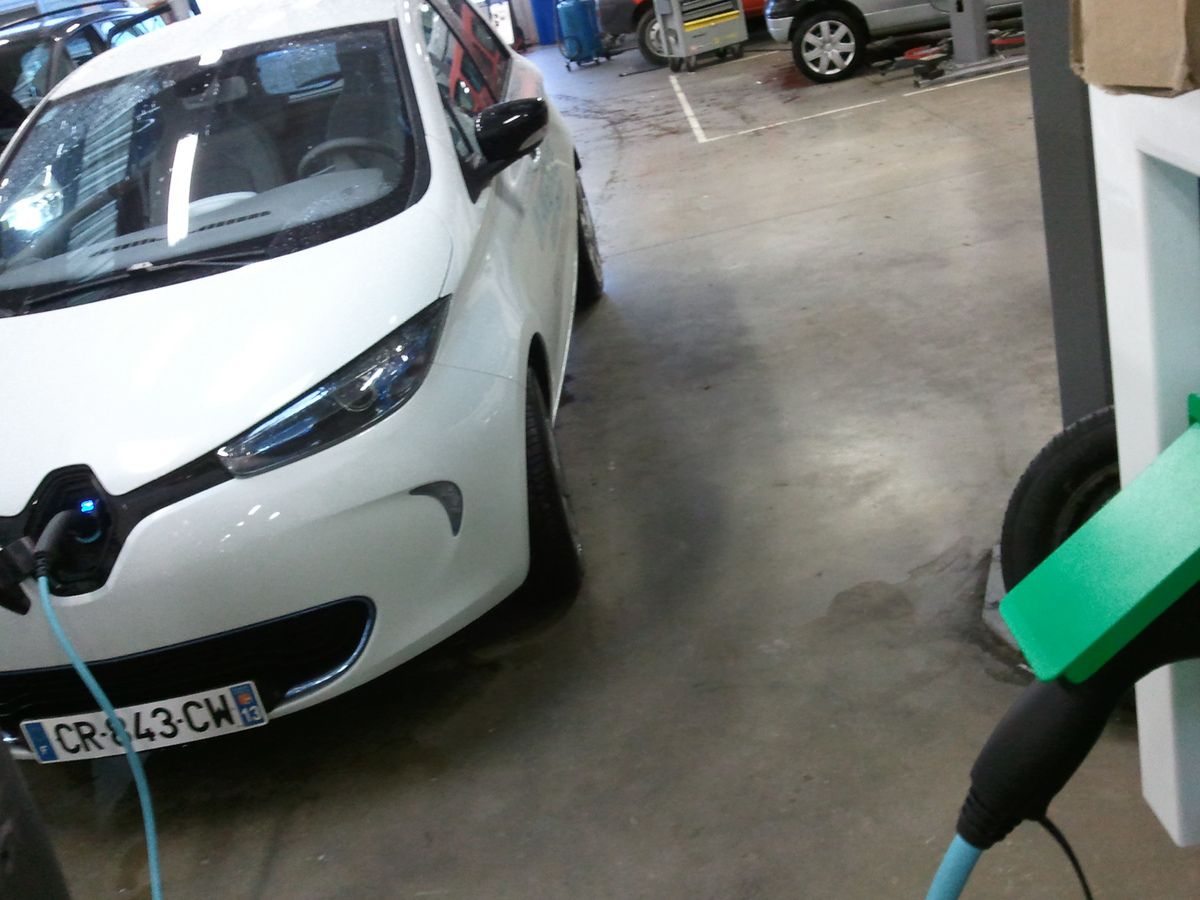 By about 1:15, my battery had recovered 99% of its charge (on a terminal "fast track", which provides 80% charge in 1 hour). Meanwhile, the reception by Renault was perfect, and I went for a run at the train station. It is necessary to respect the opening hours: Monday to Friday 8am-12pm 14h to 18h30 and on Saturdays from 8am to 12pm 14pm to 18pm. The most? Renault offers the load!
Then I stopped in Cannes: http://www.renault.fr/concession/cannes
I plugged the car just before the closing of the agency (from 12:30 to 13:30) and I went to lunch while charging. After an hour we were only arrived at 81%! Damned! The terminal was switched from an accelerated to a normal load ... without warning! So I left for a coffee and we talked with the staff of Renault EV Cannes. The moral: to be sure of my fast charging, now I prefer the square white terminal in the shop to the smallest green terminal on the outside.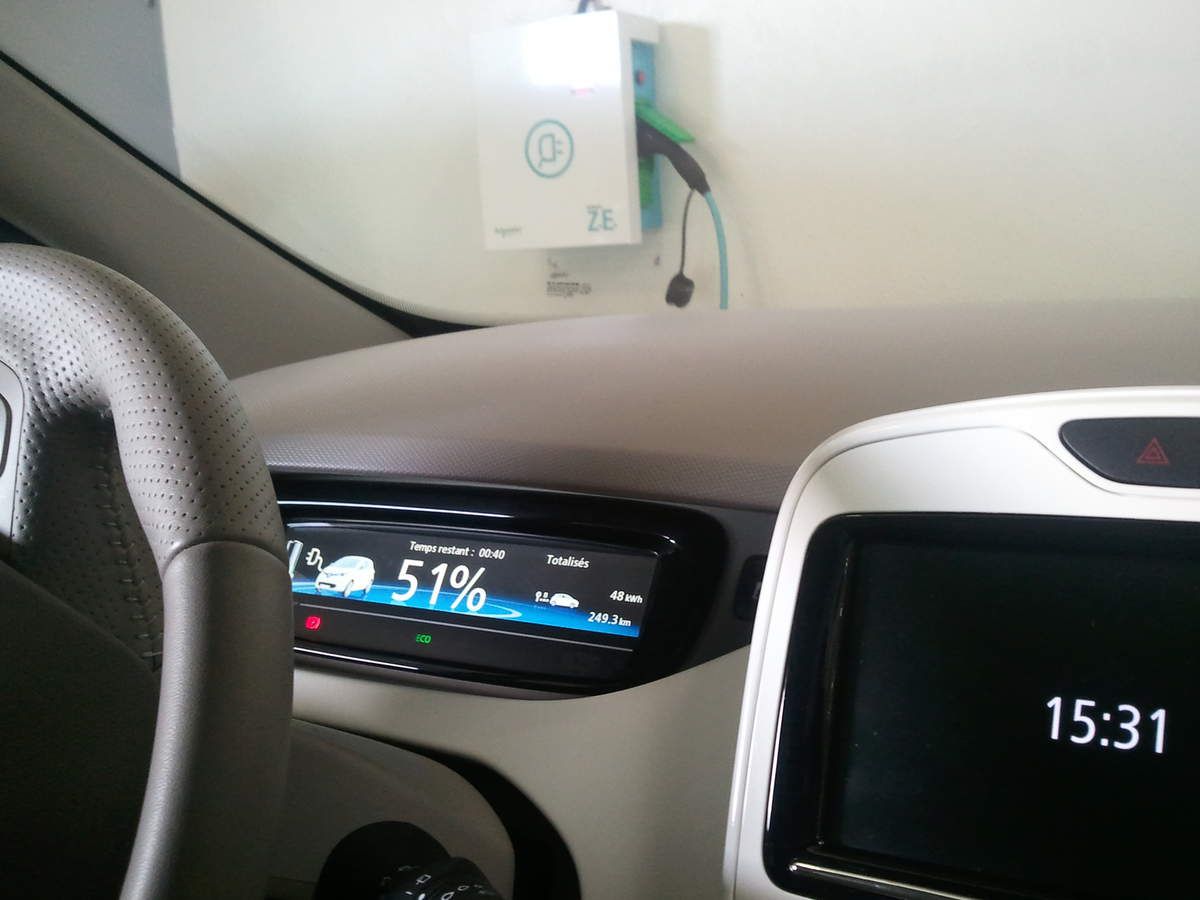 Just for fun, I made ​​a stop at the motorway station AVIA Vidauban on the A8 towards Nice. http://fr.chargemap.com/points/details/avia-area-of-vidauban . Just like on the pic of ChargeMap there were already two cars (thermals) parked at both places provided for charging, but an ad in the store and a place was quickly released. It was very easy to connect to my Zoe proper outlet (type 2 / not the CHAdeMO other!). But ... my Zoe did not accept this method of charging. Terminal side, no problem, but the dashboard of Zoe announces impossible reload. Too bad, I would have liked to test the fast charging.
Conclusion
I know, I took Zoe on the highway and it is not made for that. But at the same time it is very comfortable. If I add to my list of negatives that the lumbar support is not optimal, and more adjustments to be made for the use of fast charging, my Zoe is completely in the game against the Fiat 500, Citroen DS3 or Mini, including for use as commuters up to 100 km per day, which will meet the needs of 82% of Europeans (77% of French) according to Observatoire Cetelem Automobile 2011.
So ... do I buy?
A quick pricing via internet gives me my Zoe at € 17,250 (€ 6,300 government bonus deducted) and 79 € per month for battery rental + 15 € of electricity per month (based on an average of 10,000 km per year ).
A Fiat 500 Essence S Auto box makes only 69 hp is offered at € 18,120 after configuration at the site of FIAT and it will add 120 € of gasoline per month.
Mini One Clubman car starts at € 20,100 (the Cooper S is € 28 500) + 120 € of gasoline per month. (Can not be configured in the normal Mini automatic transmission on the site!)
Citroen DS3 automatic transmission is offered after configuration to € 23,450 plus € 120 for my gasoline each month.
As we see, the Zoe is super competitive!
With a sales volume in France in 2013 of 23,484 Citroën DS3 (20th spot), 19,006 Fiat 500 (28th ), 8888 Mini (52nd) and 5511 Zoe (84th, 10 months), there were two things :
Zoe had in 2013 9.7% share of that market;
a target of 20 000 vehicles a year in France would be quite possible to place the car on the podium between DS3 and Fiat 500.
Source: http://www.ccfa.fr/Marche auto-year 2013
Alexis Duflos
Pour être informé des derniers articles, inscrivez vous :