Hybrid vehicles - necessary transition towards the Battery Electric Vehicle ?
From a start-and-go system, any car can be considered as a hybrid. Including a Toyota Yaris or a Peugeot 508, unable to climb the slope of the parking lot with their electric motor.
So back to basics: what are the needs? Our needs?
The real consumer need is to browse their daily commuting - (School) - work - (School) - home - (shopping) - (activities) 100% electric recharging every evening on off-peak hours, on the power grid.
Then the consumer wants to keep enough range for weekends and holidays for at least one of his cars if he has several (the other can be 100% electric or BEV - Battery Electric Vehicle).
The cost and weight of batteries are still, in 2014, limiting factors, therefore the manufacturers should sell a product corresponding sharply at the customer needs.
The latest National Survey of transport and travel (ENTD) 2008 (in France), available free on the net, allows to know on a panel of 20,2 million active persons their need in autonomy for their route between their place of residence and their work round trip: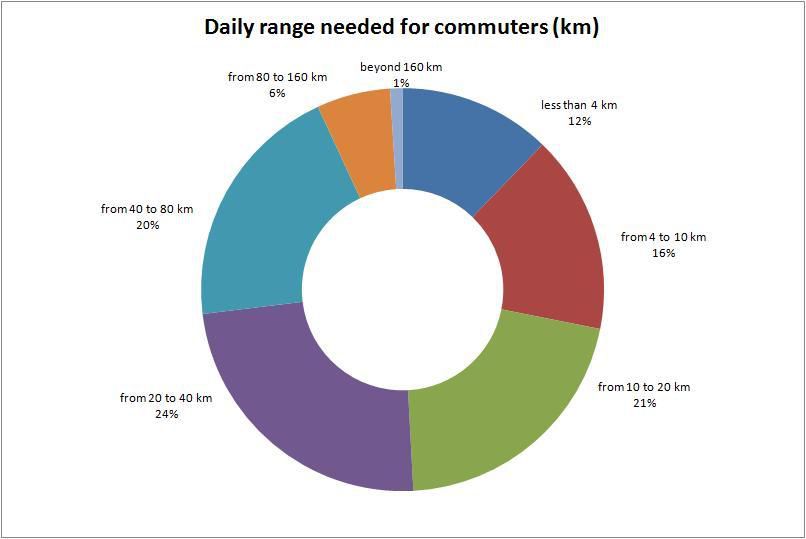 We can consider that walking is a priori the optimal mode of travel for a distance back and forth no longer than 4 km (12.2% of the assets of the study, in France).
It takes 15 minutes to walk 1 km and in town, quarter of car journeys are less than 1 km . 30 minutes of brisk walking per day improve your health.
Similarly, cycling (with or without electrical assistance) seems perfectly suited to journeys back and forth no longer than 10 km (in the aggregate, 28.1 % of the assets of the study, in France). .
It takes 15 minutes for a 3 km bike journey and every other car ride is less than 3 km.
10 km bike everyday avoid rejection by the use of a car of 700 kg of CO 2 each year. 1 car parking space is 10 bicycle parking spaces.
Up to 5 km, the bike is faster than the car: a cyclist is on average 15 Kph in the city against 14 Kph for a car!
So consider the next sector of the pie: 23.9% of the 20 million active needs 20 km electric range for its back and forth journey to work, etc ...
And define four segments:
A_ 20 km of range 100% electric;
B_ 40 km;
C_ 80 km;
D_ 160 km.
A technical and commercial solution must be marketed to each of these segments.
Based on my own experience driving a Renault Zoe 1470 kg 65 kW (85 hp), a battery of 22 kWh travels 120 true kilometers (including highway) regardless of the conditions. Let's simplify the parameters: for a similar weight and power, it will be needed:
(A): 4 kWh for a range of 20 km;
(B): 8 kWh to 40 km;
(C): 16 kWh;
(D): 32 kWh.
To illustrate, the valedictorian is the Opel Ampera, for which the manufacturer claims 60 km of range for the 10.5 kWh of useful battery capacity.
The plug-in hybrid the most sold in France, the Mitsubishi PHEV has 119 kW and 12 kWh for an announced 55 km in all-electric.
The Prius plug-in hybrid: 4.4 kWh for a range of 25 km when the Toyota Auris' range is only 4 km by 100% electric (like your bike)!
A quick benchmark on the top ten car sales in Europe shows us trends and choices of some manufacturers:
Golf, No. 1 in sales in Europe is available in pure electric version (BEV) 85 kW, 24 kWh and GTE hybrid version with 1.4 TSI associated with a 75 kW motor and a battery of 8.7 kWh.
Zoe is built on the same chassis as the CLIO, No. 4 in sales in Europe, but no CLIO hybrid is on the catalog.
The Ford Focus (No. 5 sales in Europe) are available in pure electric version: 107 kW, 23 kWh.
So is the FIAT 500, its popular electric version is currently available only in California! Yet a city car with 83 kW and a battery of 24 kWh! In France, we have the diesel version. sense for the city!
a VW Polo Hybrid or a hybrid Nissan Qashqai are also announced for 2015. I hope they will be plug-in and will allow us to really ride all day in electric!
We see that almost nothing has been done to provide a zero-emission vehicle on its top 20, 40, 80 or 160 km.
Let's finish with a flourish on the prototype Eolab Renault: 40 kW 6.7 kWh for 60 km in pure electric:
Pour être informé des derniers articles, inscrivez vous :